Last Monday was the first day of the annual UPLB FebFair.  Since we had plans for February 13-14, we went to the Feb Fair right away.  Raviv has been looking forward to the perya rides and games, while Randy and I have been looking forward to the cheap food trip we were gonna have.  One of the things that caught my eye were the carnation roses on pots being sold.  It's the first time I've seen such, and I was amazed by how pretty they were.  I wanted to buy, but Randy said next time na raw.
As we were walking back towards our car away from the FebFair festivities, memories of my last sad Valentine's Day came flooding back. It was 2003—a Friday—and my last boyfriend (before Randy) and I have just broken up a week or two ago.  I thought it would be a happy Valentine's because was invited by my crush to the Open House of their dorm (which was just across the UPLB Grounds where the FebFair was happening)–in your face, EX!  But crush had other guests whom I did not know so I left early.
The night was young, the breeze was cool, and lovey-dovey couples were everywhere.  I was alone with a huge lump in my throat.  I thought it would be my first Valentine's with someone, but I was wrong.  I wanted to linger, because I was hoping against hope that I wouldn't be alone on this night when everyone is happy.  On this Friday night.
I texted my two sets of best friends:  my dorm mates and my DevCom friends.  My dorm mates were either on dates or in their org booths in the FebFair with their orgmates.  My DevCom friends, on the other hand, were Los Banos residents.  So those who didn't have significant others stayed at home with their parents.
Running out of options, I knew I had no recourse but to head back to our dorm.  True enough, I was the only one staying in.  Valentine's on a Friday—what was I expecting, right?  I don't know how I got through the loneliness of that night, but I did.
Anyway, that was my last lonely Valentine's because a few months after that I met Randy. 🙂
********************
The romantic movies list I gave you in my previous post is perfect for those who are in happy relationships, like I am now.  But what about to those who are like me in 2003, 'di ba?  So if you're #TeamBahay and #TeamAlone and you're thinking what to download watch tonight, here's another list.  These are the movies I'd have wanted to watch on that sad Valentine's 15 years ago.
These movies will not make you feel bad about love, nor will make you hate love, I promise.  If anything, they will make you hopeful and give you different perspectives. These are probably in the Rom-Com genre, but not quite.
Here's my list, with synopses lifted from IMDB.com:
#5 Ten Things I Hate About You
Meet the Stratford sisters: pretty and popular Bianca, who has never had a date; and Kat, her older sibling, an ill-tempered harridan whose acerbic wit is matched only by her steadfast determination to alienate any guy who might be remotely interested in her. Unfortunately, strict rules in the Stratford household forbid Bianca from having a boyfriend until her odious sister has one of her own-a situation that seems highly improbable considering Kat is a social disaster. Bianca's desperation for romance turns into a convoluted scheme to match Kat with her male equivalent–a guy whose reputation is so infamous, Kat might rise to the challenge and find him worthy of her concealed charms. Mating mayhem ensues when Patrick Verona — a sullen young man with a mysterious past — is bribed by Bianca's wannabe boyfriend to woo and win Kat, in order to clear the way for Bianca to begin dating.
Why I Love This: I'm definitely not a fan of rom-coms, especially teen rom-coms.  But Heath Ledger is just so charming here.  Watch it if only for his rendition of "Can't Take My Eyes Off Of You", and Julia Stiles' rundown of why she hates Heath Ledger's character. 🙂
#4 The Wedding Singer
Robbie Hart is an extremely talented wedding singer who, ironically, is left standing at the altar on his own wedding day. Convinced by his friends to go back to work, Robbie befriends Julia Sullivan, a waitress who works at the reception hall where he sings, and who is about to marry a cheating skunk. As Robbie helps Julia plan for her wedding, they begin to fall for each other, and Robbie realizes that if either of them are ever going to be happy, he's going to have to pull off one heck of a show.
Why I Love This: Drew Barrynore and Adam Sandler's chemistry sizzles!  Plus the 80s extravaganza!  It also shows that you should not let your boyfriend/girlfriend treat you badly.  And oh yeah, the "Grow Old With You"song. 🙂
#3 Enchanted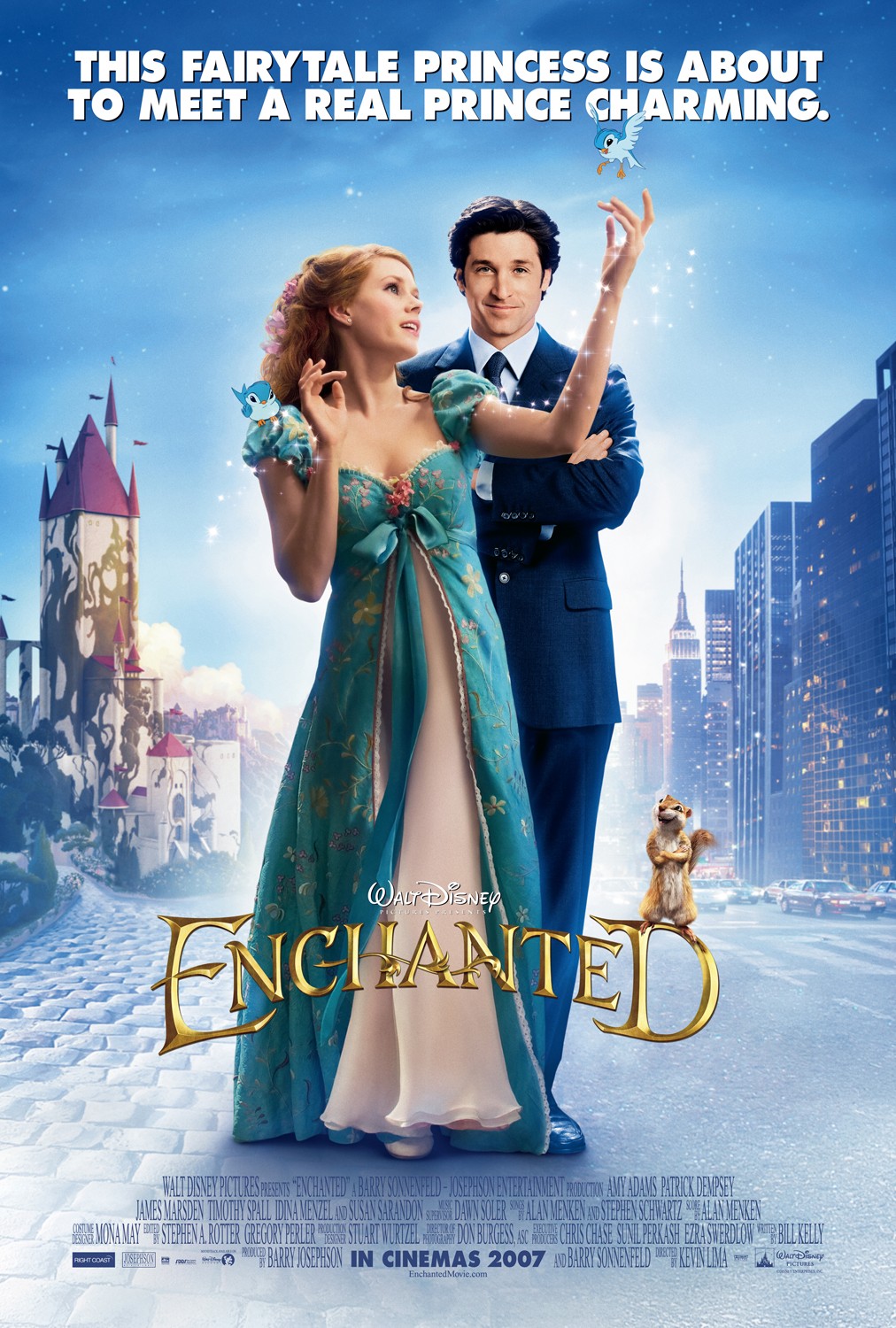 Once upon a time in the kingdom of Andalasia, a beautiful young maiden named Giselle lives in a cottage in the forest. But before she can marry the dashing Prince Edward, Giselle is sent tumbling down a magical well – and finds herself in the non-animated, extremely disenchanted world of modern-day New York City. There, she befriends a cynical divorce lawyer, Robert, who isn't so sure that her prince is coming to rescue her. Giselle's spontaneous singing and fairy-tale demeanor enchant everyone around her as she waits for Prince Edward. But she's about to discover that love in the real world isn't always as easy as sharing a single True Love's Kiss – and that she'll need courage, spunk and maybe just a little enchantment if she's ever going to find her own happily-ever-after.
Why I Love This: This movie is an oxymoron in the sense that it's a fairy tale that is realistic!  It will make you remember those fairy tale movies you so loved as a child, but it also slaps you back to reality.  This movie will make you realize that Giselle is the ultimate Disney princess:  smart, badass…and enlightened about love. 🙂
#2 He's Just Not That Into You
The needy Gigi Haim is a young woman seeking her prince charming somewhere amongst her unsuccessful dates. After dating estate agent Conor Barry, Gigi anxiously expects to receive a phone call from him. However Conor never calls her. Gigi decides to go to the bar where he frequents to see him, but she meets his friend Alex who works there. They become friends and Alex helps Gigi to interpret the subtle signs given out by her dates.

In Baltimore, five women and four men try to sort out the signals that the sexes exchange. Gigi imagines every man she meets is Mr. Right; she gets reality checks from Alex, a sweet but cynical saloon keeper. Janine and Ben seem solidly married until he chats with Anna in a market checkout line; meanwhile Anna is indifferent to the pursing Conor. Neil and Beth have been together seven years; she dumps him when she realizes he really and truly isn't going to marry her. Does he love her? And Mary sells advertising while searching online for a man. Will those in love stay in love? Will those searching figure out who is and who isn't into them? Are men all that different from women?
Why I Love This: If you can watch only 1 movie, then let it be this.  This star studded movie shows different relationships, and makes you realize that there's no formula to snag a guy or to have the perfect relationship.  Movie critics gave this a thumbs-down, but I loved it!  It shows true relationship and dating struggles of regular people. It's not cliched, and it is also funny without trying so hard to be.
#1 My Girl
Having lost her mother in birth and with her whole life encircled by death, Vada Sultenfuss, the gloomy 11-year-old daughter of Harry Sultenfuss, the town's funeral parlour manager, it is no wonder that death became almost an obsession to her. In addition, Vada has no friends in school, she is a hypochondriac tomboy, her grandmother has Alzheimer's, and worst of all, her best friend is Thomas J. Sennett, another unpopular kid who is allergic to just about everything. During the summer break in 1972, Vada will have her first crush, she will join a poetry writing class, but most of all, when the cheerful and quirky Shelly DeVoto takes up the position of make-up artist at Harry's mortuary, she will gradually find the maternal figure she always needed. Far too much for a girl to handle..
Why I Love This: Young love, sweet love.  This movie will suck you in. At first you'll think it's a snooze fest, because nothing bombastic is happening.  But everything about it is so endearing that you will find it difficult to tear your eyes away from the boob tube.  Vada's relationships with the people around her are quietly riveting, especially her friendship with Thomas J.  While this movie is just one of my most favorites when I was young, it is also the only one that still is my favorite until now.
*******************
I hope my list will refresh your perspective on love. 🙂
PS: Today after our staycation, Randy told me to look for the flowers he got me.  I looked and looked ad looked, but I could see no bouquets.  Then I peeked outside our bedroom window, and saw this:
Happy Valentine's Day!  If not this year, then the next ones. 🙂